Stone Edge's integrated shipping service allows users to get commercial USPS rates. As of July 9th, 2023, USPS is launching Ground Advantage to replace Ground and First Class services. Users will have access to these new Shipping Services within Stone Edge Starting July 7th, 2023. USPS will start accepting the postage type on the 9th.
More information  from USPS can be found here: Ground Advantage | USPS
What do I Need to Do?
Stone Edge customers using the integrated shipping system will need to add the following methods to their shipping services if they plan to use them:
USPS Ground Advantage                              1172
USPS Ground Advantage Under 1LB         1173
USPS Ground Advantage Over 1LB            1174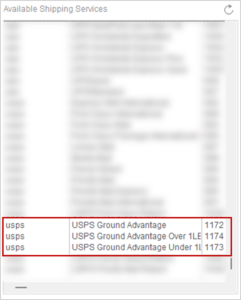 The old USPS First Class and Ground services should be removed from the list of chosen shipping methods and any service mappings.
Please reference the following guide for mapping services: Setting up Shipping Services and Rate Mapping – Stone Edge Order Manager.
How Long do I have?
Business mailers have a grace period to update shipping methods until September 30th, 2023. That means you should have the updated mapping done within Stone Edge before this date, or you will o longer be able to use methods mapped to First class and ground methods.
Conclusion
Luckily with enough preparation, this change should not affect any Stone Edge users. If you run into any issues or need help with remapping methods, please contact: support@stoneedge.com