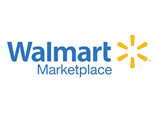 Walmart Marketplace
Walmart Marketplace allows you to sell your unique products to a wide range of Walmart.com site visitors. Your products will have the opportunity to reach over 100 million people online each month. Walmart Marketplace allows you to take control over your business especially when it comes to inventory, retail pricing, fulfillment and customer care. 
About Walmart
The Walmart Marketplace platform gives sellers the opportunity to list their unique items on Walmart's online store and reach a large audience each week. This exclusive marketplace encourages sellers to develop professional relationships between buyers and sellers around the world, while offering an abundance of tools and resources that will help optimize sales. By selling products through this platform, entrepreneurs will not only have the benefit of growing their company, but also increasing their buyers reach. Partnering with Walmart will help sellers reach their goals and lead them to entrepreneurial success. 
Features & Benefits
Have the chance to reach over 100 million Walmart.com visitors each month. 

Walmart Marketplace allows for a broad and unique range of items sold on the site. 

Choose from Walmart Marketplace's five shipping methods that are available, which include two-day shipping. 

Take control and manage your return policy in Seller Center. 

Avoid setup, subscription or monthly fees. Instead, Walmart Marketplace easily deducts a fair priced referral fee after a sale occurs on the site.
Screenshots