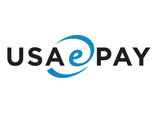 USAePay
An ideal solution for every client. Gain access to secure and safe payments as well as our advanced technologies. Our payment gateway will help you grow your business.
We make it easy and secure to integrate our payment gateway solutions into your next project. Whether you need basic integration or API's, our team has the solution for you.
Whether you need to accept credit cards using mobile, e-commerce, point-of-sale, or telephone/mail order, we have a solution that will fit your needs.
About USAePay
Process payments wirelessly, on the go. We provide the advanced technology to suit the mobile payment needs of any business.
Security is our business. Our secure payment processing platform is supported by Level 1 PCI Compliance, adhering to and exceeding strict security standards in the industry.
Live support representatives are here to assist you. We offer 24/7 support available from a team of service experts.
Features & Benefits
SAFETY, SECURITY, AND FRAUD PROTECTION

USAePay ensures this with every transaction. USAePay takes pride in our high level security, making it our number one priority to make sure your transactions are processed securely.
THIRD-PARTY SECURITY SCANNERS/ ASSESSORS

USAePay uses multiple third-party security companies to ensure that our security is always meeting the strictest of industry security standards. Every security assessor working with USAePay provides a seal for our clients to view our certification for meeting security standards.
TRANSPORT LAYER SECURITY (TLS)

All of USAePay's communications and processing occur through Transport Layer Security (TLS). TLS ensures privacy between communicating applications and their users on the Internet. To ensure the highest level of security, USAePay uses a 2048-bit RSA key and does not support cyphers known to be weak or vulnerable.
LEVEL 1 PCI COMPLIANT

As one of the first payment gateways to become Level-1 PCI compliant, USAePay is committed in ensuring that all processed, stored or transmitted credit card information maintain a completely secure environment. USAePay updates our PCI guidelines based on updates of regulations and requirements through our annual Level-1 audit. This audit includes scanning our system thoroughly and submitting a complete Report of Compliance (RoC) to the PCI Security Standards Council. To request our Attestation of Compliance (AoC) report, banks and resellers can email us at resellers@USAePay.com
Screenshots