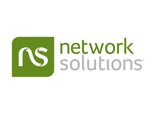 Network Solutions
Network Solutions, LLC is an Internet-centric company providing products and services targeted at the web. The company's product and service offerings include domain name registration, email hosting, website development, ecommerce products and solutions, web hosting, SSL certification, online marketing services, and website design services; they are particularly focused on helping small, and developing companies establish themselves on the Internet.
About Network Solutions
Proven Reliability
Web hosting in the cloud keeps website files stored across multiple servers, keeping your site online even if servers crash.
Malware Scan and Removal
A comprehensive scan that performs daily checks of your website to detect and remove malware.
Features & Benefits
CodeGuard. An automatic website backup solution for customers with web hosting packages applications.
SiteLock. The global leader in website security solutions offers complete malware protection.
SSL Certificate. Using data encryption to secure credit card transactions, data transfer, and logins, SSL has become the norm for securing social media sites.
MyTime Support. Always there to assist customers in setting up their products and performing tasks.
Screenshots