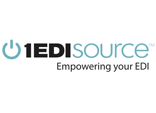 1EDISource
1EDISource provides EDI software, EDI consulting, and web-based EDI. Innovative EDI Software & Fully Managed EDI Solutions. ERP Integration. US-based support. Free EDI Buyer's Guide. Unleash the Power of EDI. Migration Planning. Supply Chain Solutions.
About 1EDISource
We Have the Right EDI Product to Fit Your Needs. Our EDI software handles a variety of tasks reliably and cohesively to both automate and integrate B2B transactions. Let 1EDI Source help you assess the importance of key features as you consider the right EDI solution to fit your needs.
1EDI Source Provides Expert EDI and ERP Integration for a Full Range of ERP Platforms. We continue to innovate and update our EDI solutions to provide seamless integrations with any ERP system you may have. Visit our ERP Integration Page for more details, and a list of the common ERPs we integrate with our EDI solutions.
Features & Benefits
Efficiency and Accuracy: Data-entry errors are eliminated
Reduction of Cost: Integration takes the place of additional staff
Increased Processing Speed: Documents are available in your system as fast as they are received
Improved Relationships with Your Customers
Screenshots