Desc./Notes Tab of the Inventory Screen
In this Topic: ShowHide
Overview
The Desc./Notes electronic records, for internal use only, that contain additional details about program events, actions or customer information that are stored with order, customer, inventory and supplier records. Notes can be entered manually by the user or automatically entered by the program, based on parameter settings in some cases. tab of the Inventory screen synonymous with the Microsoft Access Form Object or user interface. contains the product Description fieldis used to store a brief sentence or two about the product.
The lower section of this tab contains a list of  Notes or Tasks similar to a note but tasks have an action assigned to a particular user. The security system must be enabled to use the task feature of the Order Manager. that are related to the currently viewed product. Refer to Knowledge Base topics, Notes or Tasks, for more information about using those features.
The fields at the very bottom of the tab provides information about the last time the record was updated by importing product information directly from a shopping cart an e-commerce software system that allows a merchant to sell products on the Web. In the context of the Order Manager, it refers to the settings that describe a merchants web store to the program, allowing it communicate with the online shopping cart and import orders, and other information etc. or via a text file import.    

Click the Show link next to "In This Topic" at the top of this page to see a series of links in outline form, which can be used to quickly jump to that section of the topic.
In addition, major topics may provide a brief synopsis of a field's purpose or direct the reader to the appropriate section of the topic by scrolling over the image. To return to the previous location within the same page, right-click the mouse and select [Back].
If clicking a field directs the reader to a different Knowledge Base topic, it will open in a new tab or window, leaving the currently viewed topic open. The browser's settings determine whether a new tab or window is opened.
Description of the Desc./Notes Tab of the Inventory Screen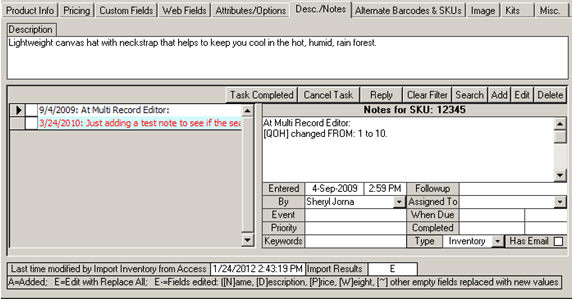 Figure 1: Desc./Notes tab of the Inventory screen
Description Field
enter a brief description of the product in this field

the record must be opened for editing first, by clicking the [Edit] button in the upper right-hand corner of the screen
Note and Tasks Section
select to mouse "left-click" on an object, usually a row in a table, in the context of Order Manager documentation a note from the window in the left-hand side of the screen and view its information in the right-hand side of the screen  

for more information about using this section of the screen, please refer to the Notes Tab of the Orders, Customers and Suppliers Screens  
Product Import Update Section
Last time modified by Import Inventory from Access Field
this field displays the time and date stamp of the last product import that was run

refers to the process that is executed when the [Import Inventory] button on the Shopping Cart Functions screen is clicked or when a product information is imported from text file at the Import Data from Other Sources screen
Import Results Field
this field shows a code indicating the type of update that was performed during the last product import

this field is populated by direct product updates from a shopping cart as well as product updates via a text file

refer to the Legend field for an explanation of the values displayed in this field
Legend
these values represent the options that were selected at the Shopping Cart Functions screen when the product import was initiated

if product data is imported from a text file, all of the fields (header labels) included in the text file are assumed to be updated
A = Added
E = Edit with Replace All
E-* where * = Fields Edited:
N = Name field of the inventory record
D = Description field of the inventory record
P = Price field of the inventory record
W = Weight field of the inventory record
~ = other empty fields replaced with new values
Created: 6/20/11
Modified: 1/25/12
Go to Top