Point of Sale Setup Screen
This screen synonymous with the Microsoft Access Form Object or user interface. is opened from the Maintenance Menu>Setup Functions tab. It is where the user configures the program settings and hardware components for  the Order Manager's Point of Sale (POS abbreviation for Point of Sale. The cash register interface for use with walk-in business at "brick and mortar" stores. Used with barcode scanners and cash drawers. Sales made on the POS screen draw from the same inventory as orders imported from online stores.) system, which is part of the Plus and Enterprise Editions of the Order Manager.
Please be advised that although this screen contains a tab for Pin Pad settings, the program does not support those devices at this time.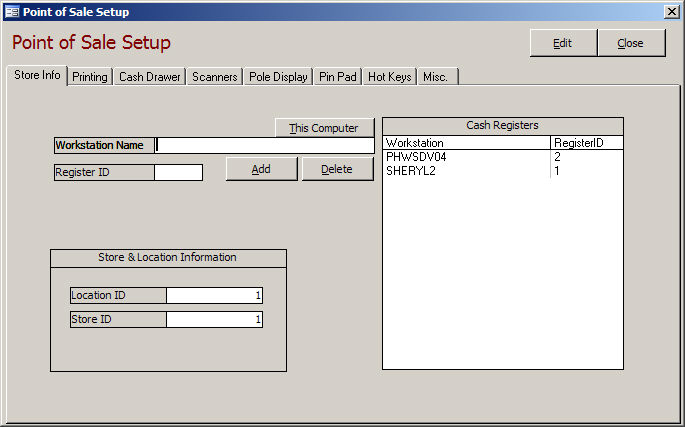 Store Info Tab
this tab is the default view when the Point of Sale Setup screen is initially opened
refer to POS Setup - Store Info Tab

 for more information
Printing Tab
Cash Drawer Tab
Scanners Tab
refer to POS Setup - Scanners Tab

 for more information
Pole Display Tab
Pin Pad Tab
although this tab is provided, the program does not support this type of device at this time
Hot Keys Tab
Misc. Tab
Edit Button
click this button to unlock the screen so that changes can be made to the settings in each tab
Close Button
click this button to exit the Point of Sale Setup

screen
Created: 1/19/12
Go to Top