Cart Functions Tab
Overview
The Cart Functions tab of the Maintenance Menu is the access point to the screens used to define a shopping cart an e-commerce software system that allows a merchant to sell products on the Web. In the context of the Order Manager, it refers to the settings that describe a merchants web store to the program, allowing it communicate with the online shopping cart and import orders, and other information etc. system, or web store, in the Order Manager, as well as the interface from which the user may import product or customer information from the web store.
The Create/Edit Shopping Carts screen synonymous with the Microsoft Access Form Object or user interface. may also be accessible via the Quick Clicks found on the Main Menu, if the user has not altered the default settings of that feature.
Mouse over the image to access links to the related Knowledge Base page for each of the controls on this screen.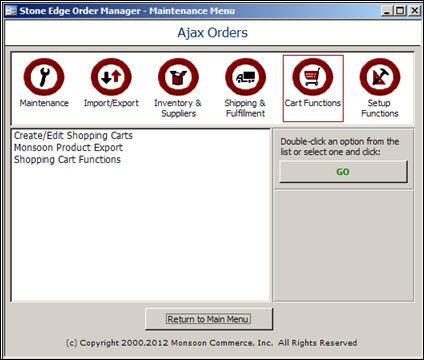 Figure 1: Cart Functions tab of the Maintenance Menu
Select to mouse "left-click" on an object, usually a row in a table, in the context of Order Manager documentation an activity from the list and click the [GO] button to be taken to the appropriate screen or to perform an action.

Alternately, double-click an activity in the  list to perform the action or go to the appropriate screen
Created: 1/25/11
Go to Top