Quick Clicks
In this Topic: ShowHide
Overview
The Quick Clicks Menu on the right hand side of the Main Menu provides a way for users to quickly jump to frequently used locations in the program. The figure below shows the default locations that are listed as the Quick Clicks when the program is initially installed. The user can choose from a list of locations to be included on the Quick Clicks and can also determine the order of each.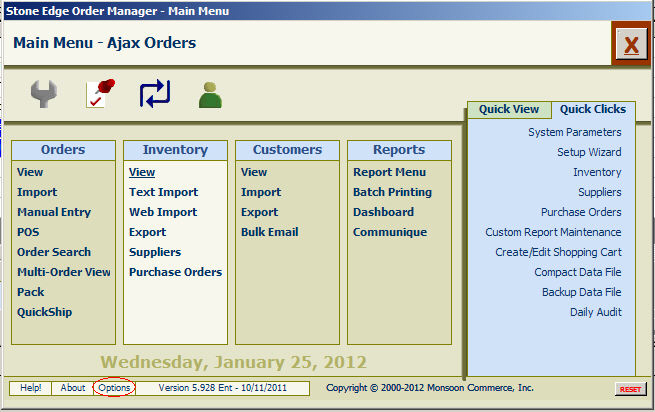 Changing the Quick Clicks Menu Items
Click the Options button, shown circled in red in the figure above. The Main Menu Options screen synonymous with the Microsoft Access Form Object or user interface. opens: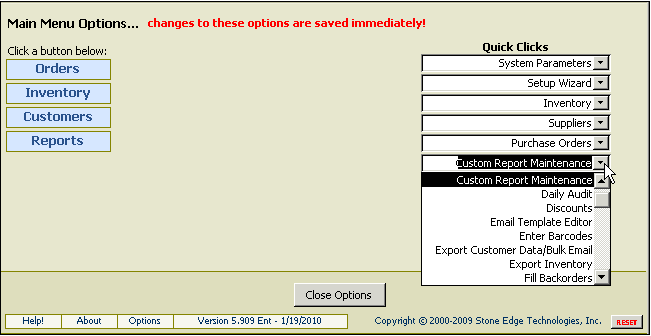 Click on one of the 10 Quick Clicks drop-down lists as seen on the right-hand side of the screen. Select to mouse "left-click" on an object, usually a row in a table, in the context of Order Manager documentation the desired program location to be displayed in each of the Quick Clicks drop-downs.

Change the order of the Quick Clicks links by changing their sequence in the drop-down lists.

Changes that are made in this screen take effect immediately and they are workstation specific.

Click the Close Options button to return to the Main Menu.
Created 2/3/10
Go to Top