Main Menu
In this Topic: ShowHide
Overview
The Main Menu is designed so the merchant can quickly access functions within the Order Manager. Icons for common tasks similar to a note but tasks have an action assigned to a particular user. The security system must be enabled to use the task feature of the Order Manager. have been placed at the top of the screen synonymous with the Microsoft Access Form Object or user interface. (wrench, pinned note, arrows). Click on each icon or link to see its function.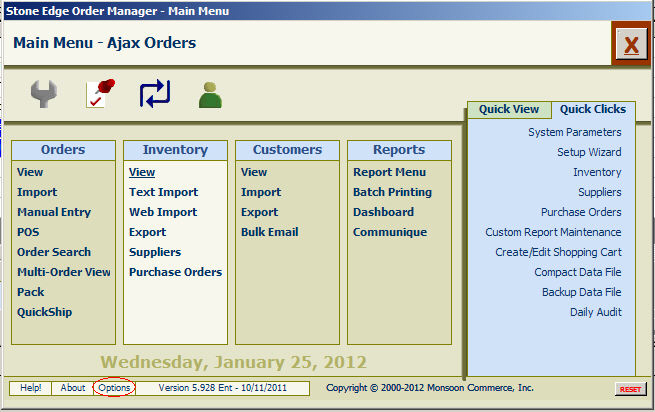 Notes electronic records, for internal use only, that contain additional details about program events, actions or customer information that are stored with order, customer, inventory and supplier records. Notes can be entered manually by the user or automatically entered by the program, based on parameter settings in some cases.:
The Report Menu option one of the possible choices for a product's attribute; for example, blue is an option for the product attribute of color was formerly called Print Reports in prior versions of the program.

The Warehouse Manager is an Enterprise only feature.

The Dashboard was previously called Stats and many of the current screens still use that term.

Click the Reset button to re-initialize the program

The Main Menu was revised in 5.916 to include the Hide Ribbon button that applies to MS Access 2007 and 2010. Hiding the ribbon can improve the performance of the program. See the figure below.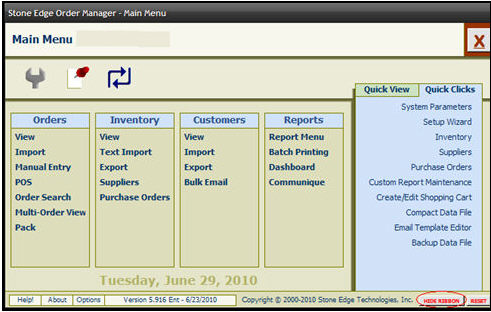 Created: 1/25/12
Revised: 3/5/14
Go to Top