Login Different User
In this Topic: ShowHide
Overview
The Login Different User function allows another user to log into the Order Manager without having to exit the program completely.
Note: This button is only available if the Security System is turned on. See Security Options for more information.

Click the Show link next to "In This Topic" at the top of this page to see a series of links in outline form, which can be used to quickly jump to that section of the topic.
In addition, major topics may provide a brief synopsis of a field's purpose or direct the reader to the appropriate section of the topic by scrolling over the image. To return to the previous location within the same page, right-click the mouse and select [Back].
If clicking a field directs the reader to a different Knowledge Base topic, it will open in a new tab or window, leaving the currently viewed topic open. The browser's settings determine whether a new tab or window is opened.
Switching Users
1. Go to the Main Menu.
2. Click the Login Different User icon
3. The Logon dialog box opens. Notice the name of the current store is displayed.
a. If you need to log into a different store, click Cancel and then click Switch Stores on the Main Menu.
4. Enter the User ID and Password.
5. Click OK.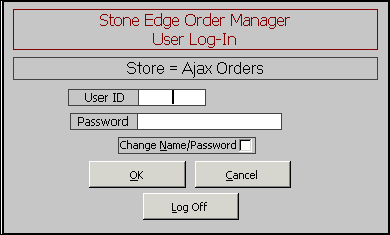 Created: 1/13/12
Modified: 2/6/12
Go to Top