Create/Edit Shopping Carts
In this Topic: ShowHide
Overview
The Create/Edit Shopping Carts selection on the Carts tab of the Maintenance Menu opens the Shopping Carts screen synonymous with the Microsoft Access Form Object or user interface.. This screen is used to define shopping cart an e-commerce software system that allows a merchant to sell products on the Web. In the context of the Order Manager, it refers to the settings that describe a merchants web store to the program, allowing it communicate with the online shopping cart and import orders, and other information etc. systems to the Order Manager, so that the program has the vital information it needs to communicate and exchange data with each of them.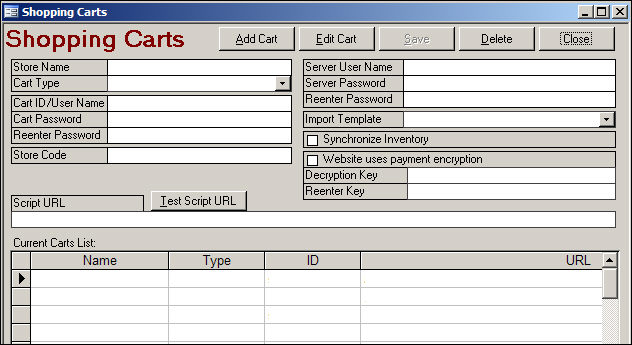 Because of the diversity between shopping cart systems, there may be fields on the Shopping Carts screen that are needed for one shopping cart system, but those same fields may not be required for another shopping cart.
For specific instructions, please refer to the 3rd Party section of the Knowledge Base.
Created: 1/14/11
Modified: 11/25/13
Go to Top