The Stone Edge Order Manager offers direct support for Magento 2 stores with a turn-key integration.  The integration connects securely to Magento's API's and offers a real-time data sync between your store and the Order Manager.
Import Orders
As orders are placed on your site, they will become available to be imported into Stone Edge.  You just click a button to start the import or have your orders automatically imported with the "Auto Import" feature that is built-in to Stone Edge.
Synchronize Quantity on Hand in Real-time!
Sync with your Magento 2 store and update quantity on hand instantaneously as your stock levels change in Stone Edge.  Whether you are importing orders from another store, placing telephone orders, making inventory adjustments, or receiving products from a PO, these are all
Update Order Status Automatically
Stone Edge will acknowledge orders, cancel orders, add tracking numbers to Magento automatically as you process and ship your orders in Stone Edge.  When an order has been paid, approved and shipped in Stone Edge the order will be marked as "Complete" in Magento.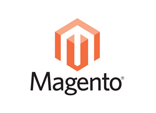 Find out more...
Contact our sales team to learn more about integrating your Magento store with the Stone Edge Order Manager.