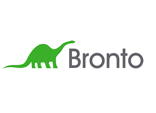 Bronto
Bronto offers sophisticated & easy to use email marketing software to help organizations grow while saving time & resources.
About Bronto
MAKE IT PERSONAL
Your shoppers are unique, and your email marketing should be too. Personalized emails increase engagement and conversions. Create segments by using subscriber profile data, purchase information, click and visit behavior, geolocation, demographic data, and more. Automate personalized product recommendations in emails – even in transactional emails – and on your website. Send targeted recovery emails for shoppers who have abandoned their cart or website browsing.
SEND THE RIGHT MESSAGE TO THE RIGHT CONTACTS
The segment builder lets you build dynamic lists of contacts grouped together by criteria that you define, making it easy to target your subscriber list so your emails are always relevant.
GET SHOPPERS BACK TO THEIR CARTS
Automate personalized cart abandonment emails to reengage shoppers who add items to a cart but leave without purchasing.
Features & Benefits
Live chat and phone support
Web case support
Knowledge base
Interactive learning
24/7 emergency coverage
Screenshots