Windows Vista
In this Topic: ShowHide
Overview
The purpose of this topic is to document any known problems or issues customers should be aware of when using the Windows Vista operating system with the Order Manager.
Apply Current Maintenance to Microsoft Software before Installing the Order Manager
To avoid data corruption and other error conditions, be certain to download and install the latest maintenance (Service Packs) for the Vista operating system as well as Microsoft Office or MS Access.
http://support.microsoft.com/?kbid=935370
MS Access Issues with MS Vista Operating System
http://allenbrowne.com/bug-17.html
Installing Order Manager on the Windows Vista Operating System Platform
It is necessary to right-click on the Setup.exe installation file (OMStandard-6.0- Access 2007.exe, for example) and choose [Run as Administrator] to avoid an error when installing the Order Manager, as shown in the figure below: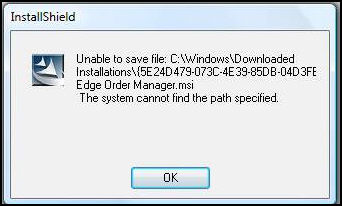 Figure 1: Error message received when the program installer is not run by or as an administrator
If this error has been encountered, un-install the program and re-install it, making sure to choose [Run as Administrator].
Windows Vista User Account Control (UAC)
This feature that was designed to reduce the ability of an outside attacker from gaining control of your PC Personal Computer, or workstation can also cause slowness when installing or using the Order Manager. In some instances, it can prevent the program from being installed. Go to the Control Panel and disable User Account Control if you experience problems.
Windows Vista Network Speed Fix
Windows Vista has general problems with slow networking speeds. Opening folders and simply browsing the network doesn't appear to be a problem, but transferring data between the network and the computer such as transferring files or data between programs can become incredibly slow. Often, what would take seconds on a Windows XP platform, can take minutes on a Vista platform.

Most of the solutions found online pertain to compatibility issues between Vista and older networking hardware. In this case, it was a software only problem. The issue was caused by a Windows service called Remote Differential Compression, which is constantly updating changes to files on both the Vista computer and the server. Disabling this makes vast improvements in transfer speeds.
Implementing the Solution
Open the [My Computer] folder from the Start menu.

Click on [Uninstall or change a program] near the top of the window.

On the left hand side, click on the option one of the possible choices for a product's attribute; for example, blue is an option for the product attribute of color [Turn Windows features on or off].

Click the check box next to Remote Differential Compression to remove the check mark.

Click the [OK] button.

Created: 3/22/11
Go to Top