Windows 7
In this Topic: ShowHide
Overview
The purpose of this topic is to document any known problems or issues customers should be aware of when using the Windows 7 operating system with the Order Manager.
Apply Current Maintenance to Microsoft Software before Installing the Order Manager
Installing Order Manager on the Windows 7 Operating System Platform
It is necessary to right-click on the Setup.exe installation file (OMStandard-6.0- Access 2007.exe, for example) and choose [Run as Administrator] to avoid an error when installing the Order Manager, as shown in the figure below: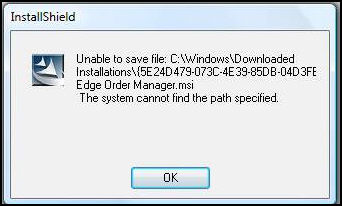 Figure 1: Error message received when the program installer is not run by or as an administrator
If this error has been encountered, un-install the program and re-install it, making sure to choose [Run as Administrator].
Windows Vista User Account Control (UAC)
This feature that was designed to reduce the ability of an outside attacker from gaining control of your PC Personal Computer, or workstation can also cause slowness when installing or using the Order Manager. In some instances, it can prevent the program from being installed. Go to the Control Panel and disable User Account Control if you experience problems.
Windows 7 Fax Software
LinkPoint Credit Card Processing Services
As of 1/24/11, the method by which the Order Manager communicates with LinkPoint credit card processing services is incompatible with Windows 7. Stone Edge is currently researching possible solutions for this problem.
Wrinklebrain Semplice
Created: 3/22/11
Go to Top