Preview Email Message Screen
In this Topic: ShowHide
Overview
The Preview Email Message screen synonymous with the Microsoft Access Form Object or user interface. is called by the View Outgoing Email button on the Notes electronic records, for internal use only, that contain additional details about program events, actions or customer information that are stored with order, customer, inventory and supplier records. Notes can be entered manually by the user or automatically entered by the program, based on parameter settings in some cases. tab of the Orders screen and the View Notes & Tasks similar to a note but tasks have an action assigned to a particular user. The security system must be enabled to use the task feature of the Order Manager. screen. It allows the user to see the text of an email message that was sent to a customer or supplier vendor in relation to the currently viewed order, note or task.
Description of the Preview Email Message Screen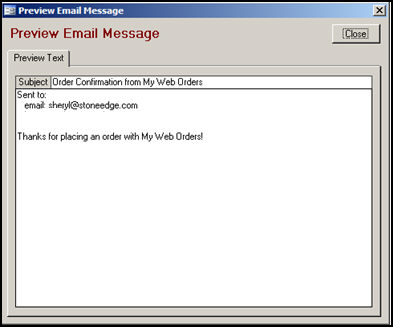 Figure 1: Preview Email Message screen
Preview Text Tab
The subject line and body of the selected email message is displayed in the section of the screen with the white background
Close Button
Use this button to exit this screen and return to the calling location of the program.

Created: 3/8/11
Go to Top