Inventory & Suppliers Tab
Overview
The Inventory & Suppliers tab of the Maintenance Menu is where the user can access the program functionality related to products and their vendors (suppliers). Some of the features, such as the Inventory and Supplier vendor screens, which are listed here, can also be accessed directly from the Main Menu or the Quick Clicks, if the user has not modified the latter from its default settings.
Other items that are listed here are common activities that may be used frequently by the user, such as Filling Backorders or using the Multi-Record Editor, while other tasks similar to a note but tasks have an action assigned to a particular user. The security system must be enabled to use the task feature of the Order Manager. may rarely need to be performed, such as Initializing FIFO (first in first out) method of tracking inventory costs or Changing Suppliers.
Mouse over the image to access links to the related Knowledge Base page for each of the controls on this screen synonymous with the Microsoft Access Form Object or user interface..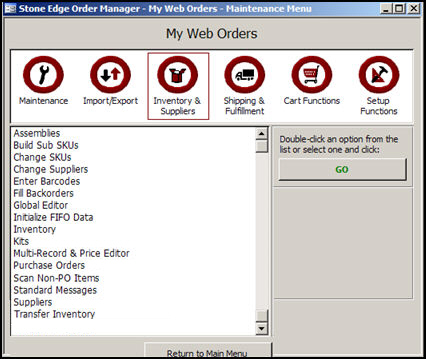 Figure 1: Inventory & Suppliers Tab of the Maintenance Menu
Select to mouse "left-click" on an object, usually a row in a table, in the context of Order Manager documentation an activity from the list on the left and click the [GO] button to be taken to the appropriate screen or to perform an action.

Double-clicking an activity will cause the related screen to open as well.
Created: 1/25/11
Modified: 8/9/11
Go to Top