Import Inventory
In this Topic: ShowHide
Overview
The Import Options screen synonymous with the Microsoft Access Form Object or user interface. is displayed when the Import Inventory button on the Shopping Cart an e-commerce software system that allows a merchant to sell products on the Web. In the context of the Order Manager, it refers to the settings that describe a merchants web store to the program, allowing it communicate with the online shopping cart and import orders, and other information etc. Functions screen is clicked. This function is used to import product records from the shopping cart (web store) into the Order Manager, if the shopping cart supports that feature.
Some shopping carts that support this feature may deviate slightly from the example shown in this topic, as indicate in the list at the end of this topic. Review the Knowledge Base pages for the specific shopping cart to determine its capabilities or check the Shopping Cart Matrix.

Click the Show link next to "In This Topic" at the top of this page to see a series of links in outline form, which can be used to quickly jump to that section of the topic.
In addition, major topics may provide a brief synopsis of a field's purpose or direct the reader to the appropriate section of the topic by scrolling over the image. To return to the previous location within the same page, right-click the mouse and select [Back].
If clicking a field directs the reader to a different Knowledge Base topic, it will open in a new tab or window, leaving the currently viewed topic open. The browser's settings determine whether a new tab or window is opened.
Description of the Import Options Screen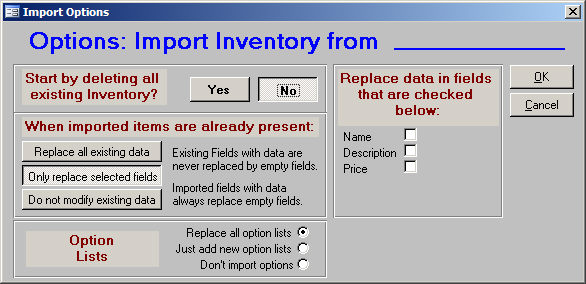 Figure 1: Import Options screen - invoked from Import Product button on Shopping Cart Functions screen
Fields and Controls on the Import Options Screen
Start by deleting all existing Inventory?
If [Yes] is clicked, the Inventory table in the store data file is emptied before the new data is imported.

If [No] is clicked, products that do not already exist in your data file are appended to the Inventory table as new product records are encountered.

The default action for this option one of the possible choices for a product's attribute; for example, blue is an option for the product attribute of color is controlled by system parameter DefaultProductImportOption.
When new items are already present:
The label on this section of the form is a bit misleading. It should probably read "When items are already present" to indicate that the user should choose one of the options below it, to tell the program how to handle the information for items that already exist in Order Manager Inventory table.
Choose one of the following:
Replace all existing data
Only replace selected fields
Do not modify existing data
Option Lists:
Replace all options lists
Just add new option lists
Don't import options
Replace data in fields that are checked below:
Name
Description
Price
OK Button
Cancel Button
Some Shopping Cart Systems that have Atypical Shopping Cart Functions Screens  
Generic/Custom Shopping Carts

Miva Merchant

Monsoon

Shop.com (formerly Altura)

ShopSite

Yahoo!Store

Created: 1/28/11
Modified: 2/26/14
Go to Top