Add/Edit Option List Screen
To manually add or edit Options Lists, go to Maintenance Menu> Inventory & Suppliers> Inventory.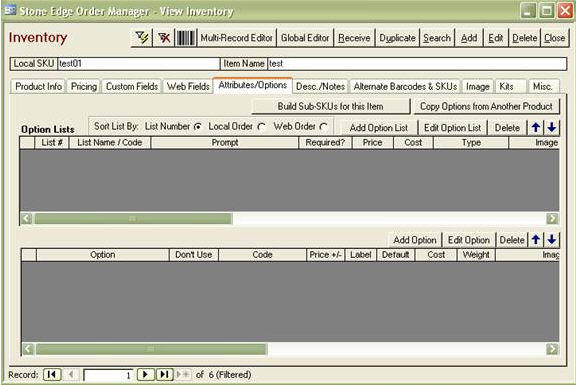 Add Option Lists:
Option one of the possible choices for a product's attribute; for example, blue is an option for the product attribute of color Lists group your products attributes Product attributes are color, size, or style etc. An attribute can have various options or variants from which the customer can choose, such as Large or Extra Large for the size attribute, or Blue or Green for the color attribute. The base product SKU combined with each of the possible options for each attribute create a sub-SKU record in the Order Manager's inventory. Sub-SKUs are important for tracking the accurate quantity on hand for a particular item rather than the general product..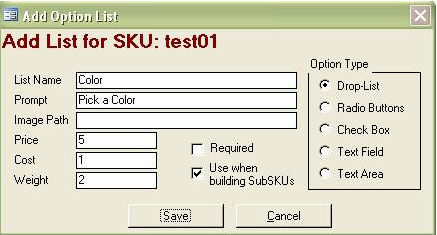 List Name – Label of the option group i.e. Size Color Flavor
Prompt – Text used instead of List Name when placing an order
Image Path – If the Inventory Import from the Shopping cart an e-commerce software system that allows a merchant to sell products on the Web. In the context of the Order Manager, it refers to the settings that describe a merchants web store to the program, allowing it communicate with the online shopping cart and import orders, and other information etc. sends this information it is stored here other then that it is not currently used in the program.
Price – Price +/- modifier if option has no selectable option i.e. Textbox
Cost – Cost +/- modifier if option has no selectable option i.e. Textbox
Weight – Additional weight selecting this option causes
Required – Whether or not selecting an option in this list is mandatory
Use when building SubSKUs – if building SubSKUs use the options in this list
Option Type – the user interface used to select to mouse "left-click" on an object, usually a row in a table, in the context of Order Manager documentation an option in the list
Add Option:
Options are what populates your Option Lists and is what the customer actually selects.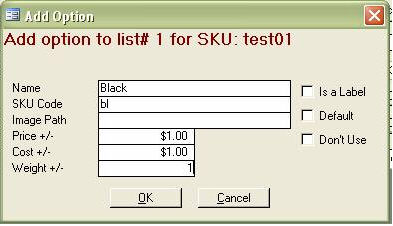 Name – Name of the option selected that will show when selecting option and on the order
SKU the abbreviation for Stock Keeping Unit; a unique identifier used to track product inventory Code – If building sub-SKU's use this code instead of "Name"
Image path -
Price +/- -Increase or decrease Price
Cost +/- - Increase or decrease Cost
Weight +/- - Increase or decrease Weight
Is a Label – Not an actual option but an instruction for selecting an option i.e. "Select an Option from List"
Default – whether or not this option is selected by Default
Don't Use – Exclude this option from being selectable during order processing
Copy Options from another Product:
This function allows you to copy all or selected Option Lists from another Product.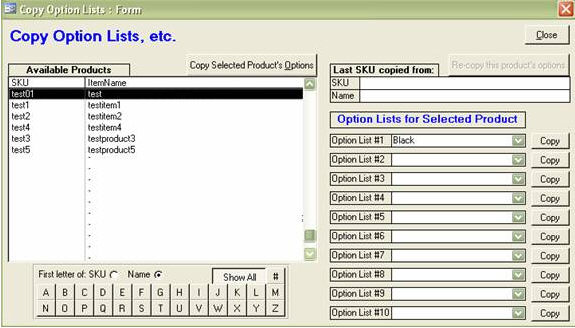 Created: 1/20/12
Go to Top